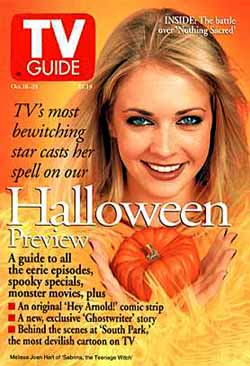 TV Guide cover for October 18, 1997
Melissa Joan Hart, of Sabrina, the Teenage Witch

At 21, Melissa Joan Hart takes classes at New York University and differentiates herself from the average college student: "At this age a lot of people are at college, hanging out at dorms, going out and getting drunk all the time. We are sitting around and having a bottle of wine I flew in from the Napa Valley, playing chess." Not to worry about her missing out entirely, though. Unlike the rest of us, she may not be satisfied with the Napa Valley vino the wine store sells, but academic scheduling proves the great leveler. "I should be graduating, but I am not going to be able to," she notes. "I have been calling my adviser and trying to figure out how many credits I need to graduate." Now that's the college we remember. (© TV Guide Magazine Group, Inc.)

[ Photo Index | Magazine Index | TV Guide ]


Dislaimer and Legal Notice: © 2021 PJ Hruschak - This site is not directly affiliated with Melissa Joan Hart, Paula Hart, Emily Hart, HartBreakFilms, Inc., Archie Comics, Warner Brothers, Paramount, Viacom, Warner Bros., The WB, ABC Television, their parent companies, agents or affiliates. This site is the sole property and creation of PJ Hruschak and is intended to be an unofficial fan site. Any representation of this site or its contents must be made with express persmission of PJ Hruschak.
Image Dislaimer: This site offers images that are in the "public domain," i.e., they are usually already found on the Web. All articles presented here are not for resale and are presented for fan enjoyment only. If the legal owner of any image feels they are bring misrepresented or might want their image(s) removed from this site, please contact me via email.